OUR PRICE: £499.00 Fully fitted, Excluding VAT.
- * Optional data connection £12.00 per month*
Lease this camera:
option 1 £13.99 per month
option 2 £23.99 per month
Option 2 includes vehicle Tracking and live video streaming
Prices exclude VAT.
Vehicle Telematics Camera
The VT2.2 is a forward facing incident recording camera with an input for an optional driver or passenger facing secondary camera.
The VT2.2 can be used as a stand-alone system utilizing the removable SD card to review video & data. Or as connected video telematics system.
The connected video telematics option allows the end user to remotely maintain and format the system, access live vehicle Tracking and instant video images via a web based platform.
Video footage can be requested and viewed from the web platform, removing the need to access the SD card. Events including G-Force impact, speeding, harsh acceleration and harsh breaking are automatically uploaded to the cloud.
Front and Rear Camera Included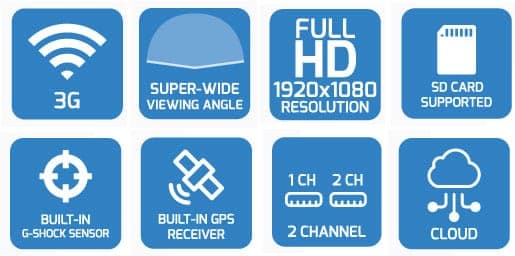 Key features:
1080p HD wide angle (150°) Lens.
The standard 32G SD card has 23 hour recording capacity
On the web Platform Fully Journey with 30 day History
Video reports, Driver behaviour
Any Events will go directly to the cloud.
Speed and over speed, Harsh breaking
Daily and monthly Reports
FNOL (First notification of loss)
Datasheet: VT2200 datasheet