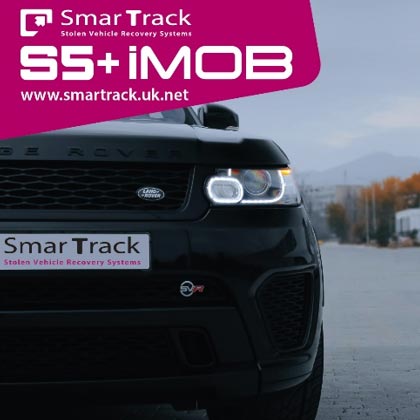 SPECIAL OFFER - OUR PRICE:
£699.00 Fully fitted, inc VAT.

SMARTRACK S5 +iMOB
| | |
| --- | --- |
| Subscriptions Monthly* | £16.99 |
| 1 Year | £199.00 |
| 2 years | £329.00 |
| 3 Years | £429.00 |
| Duration of Ownership | £699.00 |
Buy SMARTRACK S5 iMOB»

*Subscriptions taken by SmartTrack after install




The SmartTrack S5+iMOB is a new technology no tag no start S5 approved Tracker immobiliser system designed for many types of vehicle including Hybrid and electric vehicles .
Using credit card sized driver recognition cards, the vehicle is immobilised until the driver recognition card is present.
mobilesystems are one of few companies approved to install the Smartrack S5+ iMOB
Prior to the vehicle's engine engaging, the SmarTrack S5+ iMOB automatically scans to verify that the supplied, innovative, Bluetooth Driver Detection cards are present within the vehicle. Without the presence of these next generation cards, the vehicle will remain immobilised, preventing the vehicle from being driven by any unauthorised personnel. In an industry first, the SmarTrack S5+ iMOB system has been developed for use with ALL vehicle types, including Hybrid, Electric and classic vehicles, making SmarTrack a system built for a future of alternatively powered vehicles.
Standard features include:
Thatcham Approved S5+ Accredited Tracking Unit
Suitable For All Vehicle Types Including Electric/ Hybrid Via Unique CAN Technology Relay
Automatic Immobilisation Where Driver Detection is Not Present
System Override Via Secure IOS/Android App- Including Valet/Service Modes
24/7 Monitoring Service Provided By Global Telemetrics
GTE Track App For Monitoring Vehicle Location, Trip History, Geo Fences & Push Notification Alerts
Optional Alarm Sounding Alert (Please speak with the installer before installation)
Multi Tracking Technologies For Locating In The Event of Theft When GPS Is Compromised
Dedicated External Repatriation Team For Assisting Vehicle Recovery
Fully Transferable (Terms and Conditions apply)
3 Years Manufacturer Warranty (extendable up to 12 years)
---